LS 103
LS 103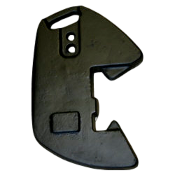 Factory Type Front Suitcase Weight for Case and New Holland Tractors.
Color:
Black
...87Weight:
100
lbs each
IN STOCK NOW!
46 kg each
REF 405846A3
Replaces: Case 405846A3

Fits CASE I.H. factory brackets. For Current Model CASE I.H. Tractors, For New Holland TJ Series and T9000 Series.
LS103 STK287
New Case, New Holland 405846A3 Weight (Aftermarket)
Weight 100 lbs
Factory type front weight, suitcase weight.
Brand New Casting. Gloss Black Polyurethane Paint.
Use the form below to request pricing or other information.
Fits factory brackets.
Replaces Case OEM No. 405846A3, 86988727
Replaces New Holland OEM No. 403140A1
Case-
Fits Case IH Tractors Farmall 65A, Farmall 65C, Farmall 70, Farmall 75A, Farmall 75C, Farmall 75N, Farmall 80, Farmall 85C, Farmall 85U, Farmall 90, Farmall 95, Farmall 95 HC, Farmall 95C, Farmall 95N, Farmall 95U, Farmall 105C, Farmall 105N, Farmall 105U, Farmall 115C, Farmall 115U, JX55, JX60, JX65, JX70, JX75, JX80, JX80U, JX85, JX90, JX90U, JX95, JX100U, JX1060C, JX1070C, JX1075C, JX1075N, JX1080U, JX1085C, JX1090U, JX1095C, JX1095N, JX1100U, Magnum 180, Magnum 190, Magnum 200, Magnum 210, Magnum 215, Magnum 220, Magnum 225, Magnum 235, Magnum 240, Magnum 245, Magnum 250, Magnum 260, Magnum 275, Magnum 280, Magnum 290, Magnum 305, Magnum 310, Magnum 315, Magnum 335, Magnum 340, Magnum 370, Magnum 380, Maxxum 110, Maxxum 115, Maxxum 120, Maxxum 125, Maxxum 130, Maxxum 140, MX210, MX215, MX220, MX230, MX240, MX245, MX255, MX270, MX275, MX285, MX305, MXM120, MXM130, MXM140, MXM155, MXM175, MXM190, Puma 115, Puma 125, Puma 130, Puma 140, Puma 145, Puma 150, Puma 155, Puma 160, Puma 165, Puma 170, Puma 180, Puma 185, Puma 195, Puma 200, Puma 210, Puma 215, Puma 220, Puma 225, Puma 230, Puma 240, Steiger 330, Steiger 335, Steiger 350, Steiger 370, Steiger 380, Steiger 385, Steiger 400, Steiger 420, Steiger 430, Steiger 435, Steiger 450, Steiger 470, Steiger 480, Steiger 485, Steiger 500, Steiger 535, Steiger 550, Steiger 600
New Holland-
Fits New Holland Tractors T9.390, T9.450, T9.505, T9.560, T9.615, T9.670, T9020, T9030, T9040, T9050, T9060, TJ275, TJ280, TJ325, TJ330, TJ375, TJ380, TJ425, TJ430, TJ450, TJ480, TJ500, TJ530
Hardware sold separately