Frequently Asked Questions and More!
Common Questions and Subjects:
Add a header to begin generating the table of contents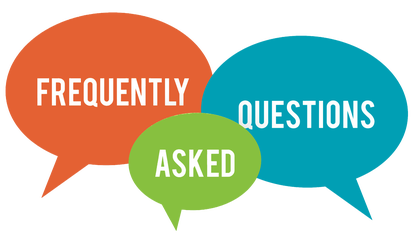 If you need information not covered here or if you need more information, please do not hesitate to contact us.
Telephone - 940-761-9081
Fax - 940-761-9008
Toll Free - 1-866-941-9081
Will Your Tractor Weights Stack On My Current Weights?
Stacking New Tractor Weights On Existing Weights
Our factory style weights will match up and fit properly on the equivalent factory weight.  Additionally, our factory style suitcase weights will match up correctly to the factory versions.  To ensure proper fit, it is always best to provide us with a factory part number prior to ordering.
Why Do My Wheels Have Square Holes To Mount Tractor Wheel Weights?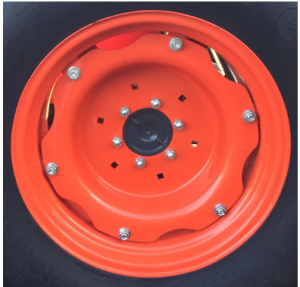 Tractor Wheels With Square Holes
Many tractors have square mounting holes in the wheels.  In most cases, these holes allow for the use of carriage bolts.  The square head of the carriage bolt is intended to make weight installation easier and prevent the bolt from turning during use.  The shaft of the carriage bolt is round and, depending on the application,  the corresponding correct tractor weight will usually have round, oval, or slotted holes.  In some instances the proper grade carriage bolt is not available, and the proper grade standard bolts or cap screws must be used through the square holes.  
How Much Does It Cost To Ship Tractor Weights To Me?
Shipping Costs for Tractor Weights
We offer free basic shipping on all orders of 1,000 pounds or more to the states shown in the accompanying map. Residential fees, farm fees and other access fees may apply.
Standard shipping is by truck freight.  We ship a large amount of weights daily and have very good shipping rates with the major carriers.  Please contact us and we will be happy to provide you a shipping quote.
Shipping to a commercial business with a forklift is always cheaper than shipping to a residential or farm address.  If you have a relationship with a commercial business (with a forklift) that is inside the city or town limits and they can receive the weights for you; the shipping will always cost less.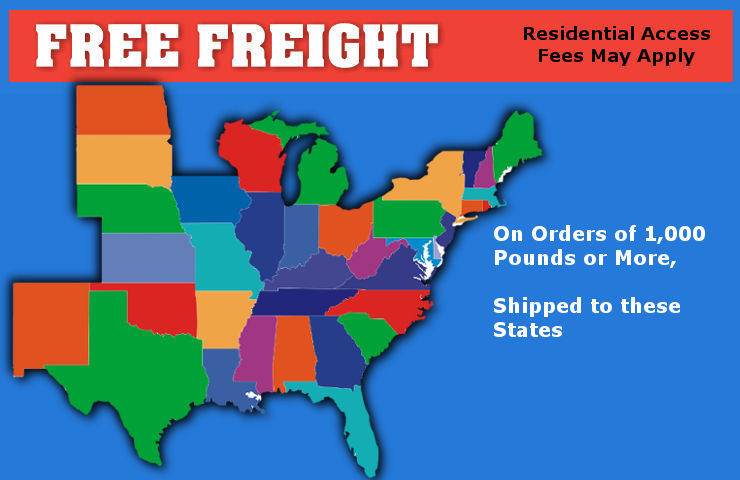 Do You Ship Tractor Weights To Canada, Mexico, Or Other Countries?
INTERNATIONAL SHIPMENTS
Yes we ship to Canada and Mexico with deliveries to Canada currently occurring on a weekly basis.  
We ship our tractor weights worldwide.  Please contact us for a complete quote.
Do You Ship Tractor Weights to Hawaii, Alaska, and Puerto Rico?
Tractor Weights in Alaska and Hawaii.
We ship and distribute our products worldwide, including all U.S. States and Territories.
Where Are Your Tractor Weights and Products Manufactured?
Where Do Our Tractor Weights Come From?
Our weights are produced and manufactured by our parent foundry located in Texas and by our Alliance Foundries located around the world.
With the equipment and skill required, most foundries, given sufficient time and investment, could produce almost any cast iron product.  However most foundries specialize in a narrow range of products using only the casting processes required for their production.
In order to achieve the highest quality product, our tractor weights are produced by various green sand processes, no-bake processes, and vacuum casting processes.  Even the large tractor brands often source different types of tractor weights from different foundries.
All our tractor weights are produced to the correct specifications and tolerances under strict quality assurance plans.  Regardless of the location of the foundry, we are totally involved in the development and production of our castings.
Do You Manufacture Tractor Weights and Other Castings For OEMs (Original Equipment Manufacturers), Dealers, and Distributors?
Custom Castings, Castings For OEMs, Castings for Dealers.
Yes, we manufacture and distribute tractor weights and other castings as a direct supplier to Original Equipment Manufacturers, Assemblers, Wholesale Distributors, Municipalities, Farm Equipment Dealers, and other entities.  Please contact us for more information or to submit drawings and CAD files for quotations.
We also offer tractor weights with dealer wholesale pricing and volume discount packages for all farm equipment dealers and retailers.
What Is The Difference Between Aftermarket Tractor Weights And Factory Tractor Weights?
Aftermarket Tractor Weights
For years, many brand manufacturers produced their own tractor weights.  Beginning in the late 1950s and early 1960s most of the brand manufacturers began entering into contractual relationships with third party foundries to produce tractor weights that could be sold and distributed within their own network.  Today, almost all tractor weights are produced by third party foundries with these foundries operating as suppliers to the brand manufacturers and others.
The primary difference between a factory tractor weight and an aftermarket tractor weight is that the aftermarket version will not have the identifying marks (part numbers, etc.) of the brand manufacturer cast into the weights.  The basic green-sand casting process, despite improvements in automation, is an old technology.  Slight variations among identical weights are common, even when produced in the same foundry with the same tooling.
The increasingly automated processes employed by many foundries has improved the dimensional accuracy of their products.  Some tractor weight manufacturers and distributors are still lagging in automation and their product is often inferior to the products distributed by the brand manufacturer.  Other foundries have embraced automation and some of their products can be superior to the products distributed by the brand manufacturer.
When purchasing tractor weights outside the brand manufacturers network, it is always best to choose a manufacturer or distributor with a history in the tractor weight market, one that stands behind their products, understands its intended use, and is heavily focused on the agricultural market.  Lonestar Weights has been focused, almost exclusively, on this market for many years.  We work daily to continually improve our casting processes, finishing, and distribution.  We have, literally, thousands of very satisfied customers.
Are Concrete (Cement) Tractor Weights A Viable Option?
Cast Concrete Tractor Weights.
Concrete tractor weights start with a major limitation in place.  The equivalent volume of cast iron weighs approximately 3 times as much as an equivalent volume of concrete.  Concrete tractor weights must be much larger than the equivalent cast iron tractor weight.  This reduces flexibility especially when stacking weights are required.  Some concrete tractor weights also have moisture issues and expansion issues and we have seen many that are prone to cracking.
Instances for front, rear, or belly mounting weights where overall size is not an issue; concrete weights can be a viable choice.  We believe, and it has been our experience, that cast iron will offer more flexibility overall, will last longer and will hold its value far better than will concrete weights.
Is Liquid Ballast (Fluid in Tires) a Viable Option Versus Tractor Weights?
Fluid Filled Tractor Tires
Beet Juice, Calcium Chloride, Water, Anti-Freeze, etc. have all been used in tractor tires to provide ballast weight to the tractor.  Fluid filled tires can work very well in certain applications, especially with bias ply tires.  Proper ballasting of the entire tractor for the desired application is most important and, in general, cast iron weights will provide more flexibility across differing applications.
It is always best to check your tractor manufacturer's recommendations for the proper operation of your equipment.
Radial tires do not, on average, perform as well with fluid as would bias ply tires.  Power hop is also an issue that can be corrected by removing all fluid and also by installing fluid in front wheels. It depends entirely on the equipment and the issue to correct.
We suggest that owners of 4wd Tractors, Mechanical Front Wheel Drive Tractors, Articulated Tractors, and tractors with radial tires be well informed prior to choosing fluid.
For more information, please contact us or see the link below:
https://agtiretalk.com/proper-tractor-ballast-manufacturers-answer/
What If My Tractor Wheel Does Not Have Wheel Weight Mounting Holes?
No Weight Mounting Holes in Wheel.
If your model tractor does not have holes in the wheels to mount wheel weights, please contact us for more information.  Your model may not be designed for additional ballast or may require special weights or adapters.
We do not encourage the drilling of tractor wheels in order to mount weights without knowing the specifics of the tractor model and the specifics of the currently installed wheels.
How Do I Determine My Wheel Weight Mounting Pattern for Tractor Weights?
My Tractor Has a Loader and is Light or Unstable in the Rear.
Tractor Weights and Ballasting with Loader Attached.
We receive daily calls about this issue and have a page dedicated to this topic.  Please see the button below for more information.
How Much Weight Do I Need to Add to My Tractor?
Determining the Correct Tractor Weights.
It is usually best to follow the manufacturer's guidelines for your machine.  You can also contact us for more information.  We have vast knowledge regarding the proper ballasting of tractors and can advise you on the most common setups for your equipment and application.
It is very common for users to desire the heaviest weights possible for their tractor.  This is rarely the most efficient method.  Once we know your equipment and how you operate your equipment, we can offer best practice recommendations for you to consider.  There are usually many options available and we want you to be fully informed of all the pros and cons before committing to a purchase.
For tractors with loaders attached, please see our LOADERS page for more information.
Are Your Tractor Weights Priced By the Pound?
Tractor Weight Cost Per Pound
Our weights are priced individually and are not priced by the pound.  The cost per weight is based heavily on the tooling and production costs as well as the finishing process and the paint that is applied to the casting.  We produce our tractor weights by green-sand moulding, vacuum moulding, and by no-bake moulding.  All of these processes have different costs, with some being much more expensive than others.  We do strive for continual improvement and work hard to provide the best value for our customers.
Do I Need Mounting Hardware for Tractor Weights?
Mounting Hardware For Tractor Weights
We can provide hardware for most of our products.  For our factory style weights, hardware from your brand dealer will also work with our weights.  If you prefer to source your own hardware, we will happily let you know what you need.
The proper type, grade, and length of mounting bolts is very important.  Sub-Standard mounting hardware can lead to poor performance, accidents, and even injuries.  Please contact us for more information.