LS 108
LS 108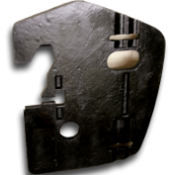 Factory Style Front Tractor Weight for New Holland.
Color:
Black
...211Weight:
88 lbs
lbs each
40kg each
Replaces:
New Holland 87407998
New Holland Factory Style Suitcase Weight
LS108 STK2211
New 87407998 New Holland Suitcase Weight (Aftermarket)
Weight 88 lbs
Brand New Casting. Gloss Black Polyurethane Paint.
Use the form below to request pricing or other information.
All applications and models are not shown below.
Fits models TG215, TG305, TG230, TG285, TG210, TG245, TG255, TG275 and others. Call for details.
Hardware sold separately