LS 203 Y
LS 203 Y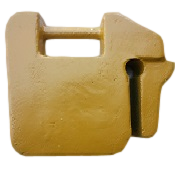 JOHN DEERE Factory Type Suitcase Weight
Color:
Yellow
...107Weight:
42
lbs each
19kg each
Replaces Taylor Foundry No. 635.
Fits MOST John Deere Compacts

Can Be used with Heavy Hitch

Fits many Sub Compacts / Skid Loaders
LS203Y LS203 STK2107
For late model John Deere Skid Steers, see our
LS209 Here.
***
Use the form below to request pricing or other information.
***
Hardware sold separately