LS 212 B
LS 212 B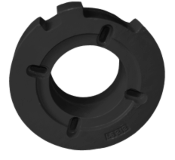 Wheel Weight for CNH, Deutz Fahr, Yanmar, others.
Color:
Black
...234Weight:
350
lbs each
Will NOT Stack
Mount Hole Centers: 9 ½, 11, 11 ½
Inner Diameter: 10 ¾
Outer Diameter: 21 ⅜
Thickness: 7


LS212B LS212 STK1234
New Wheel Weight. Case, New Holland and others. (Aftermarket)
Weight 350 lbs each.
Brand New Casting. Gloss Black polyurethane paint.
Many applications possible.
Use the form below to request pricing or other information.
Not all applications and models are listed below. Must have correct wheel size and hole pattern for proper fitment.
AGCO GT45A, GT55A, GT65A, GT75A, ST22A, ST24A, ST28A, ST33A, ST34A, ST41A, ST47A, ST52A, ST60A
BRANSON 3110i, 3120R, 3510, 3510h, 3510i, 3520R, 3820i, 4020R, 4220i, 4520C, 4520R, 4720h, 4720i, 5220C, 5220R, 5530, 6530
CASE C50, C55, C60, C64, C70, C80, C90, C100, CX50, CX60, CX70, CX80, CX90, CX100, D25, D29, D33, D35, D40, D45, DX21, DX23, DX25, DX26, DX29, DX31, DX33, DX34, DX35, DX40, DX45, DX60, Farmall 30B, Farmall 30C, Farmall 31, Farmall 35, Farmall 35B, Farmall 35C, Farmall 40, Farmall 40B, Farmall 40C, Farmall 45, Farmall 45A, Farmall 50, Farmall 50B, Farmall 50C, Farmall 55 , Farmall 55A, Farmall 60, Farmall 65A, Farmall 65C, Farmall 70, Farmall 75A, Farmall 75C, Farmall 75N, Farmall 80, Farmall 85C, Farmall 85U, Farmall 90, Farmall 95, Farmall 95C, Farmall 95N, Farmall 95U, Farmall 105C, Farmall 105N, Farmall 105U, Farmall 105V, Farmall 115C, Farmall 115U, JX1075N, JX1095N, 385, 395, 485, 495, 585, 595, 685, 695, 785, 795, 885, 895, 995, 3220, 3230, 4210, 4230, 4240
CHALLENGER MT225B, MT255B, MT265B, MT275B, MT285B, MT295B, MT315B, MT325B, MT335B, MT345B
DEUTZ FAHR Agrofarm 85, Agrofarm 100, Agrofarm 410, Agrofarm 420, Agrofarm 430, Agrokid 35, Agrokid 55, Agrokid 210, Agrokid 220, Agrokid 230, Agrolux 57, Agrolux 60, Agrolux 67, Agrolux 70, Agroplus F320, Agroplus F410, Agroplus F420, Agroplus S320, Agroplus S410, Agroplus S420, Agroplus 67, Agroplus 70S, Agroplus 77, Agroplus 87, Agroplus 100S, Agroplus 310, Agroplus 320, Agroplus 410
KIOTI DK55, DK65, DK65S, RX6010, RX6620, RX7320
MAHINDRA mForce 100P, mForce 100S, 3510, 3535, 3550, 3825, 4010, 4025, 4035, 4110, 4500, 4510, 4525, 4550, 5010, 5035, 5500, 6010, 6110, 6500, 7010
MASSEY FERGUSON 231, 231S, 240, 241, 243, 253, 261, 263, 271, 273, 281, 283, 360, 362, 363, 364, 365, 373, 374, 375, 377, 383, 384, 387, 390, 393, 394, 396, 397, 398, 399, 431, 435, 440, 451, 460, 461, 465, 471, 475, 481, 491, 492, 533, 543, 550, 563, 565, 573, 575, 583, 590, 592, 593, 595, 596, 1523, 1526, 1528, 1529, 1531, 1532, 1533, 1540, 1547, 1552, 1560, 1635, 1643, 1648, 1652, 1655, 1660, 1736, 1734E, 1739E, 1742, 1749, 1754, 1758, 1759, 2605, 2615, 2620, 2625, 2635, 2650, 2650HD, 2660, 2660HD, 2670, 2670HD, 2675, 2680, 2680HD, 3625, 3630, 3635, 3645, 4225, 4233, 4235, 4243, 4245, 4253, 4255, 4260, 4263, 4270, 4608, 4609, 4610
NEW HOLLAND 8N, Boomer 30, Boomer 35, Boomer 40, Boomer 50, Boomer 1030, Boomer 2030, Boomer 2035, Boomer 3040, Boomer 3045, Boomer 3050, Boomer 4055, Boomer 4060,T4.100, T4.105, T4.115, T4.75, T4.85, T4.90, T4.95, T5.105, T5.115, T5.95, T1510, T1520, T1530, T2210, T2220, T2310, T2320, T2330, T2410, T2420, T4020, T4030, T4030F, T4030V, T4040, T4040F, T4040V, T4050, T4050F, T4050V, T4060F, T4060V, T5040, T5050, T5060, T5070, TC18, TC21, TC21A, TC21DA, TC23DA, TC24DA, TC25, TC26DA, TC29, TC29DA, TC30, TC31DA, TC33, TC33DA, TC34DA, TC35, TC35A, TC40, TC40A, TC45, TC45A, TC48DA, TC55A, TC55DA, TD75D, TD80D, TD85D, TD95D, TD4040F, TD5030, TD5050, TN55, TN55D, TN55S, TN60A, TN60DA, TN60SA, TN60V, TN65, TN70, TN70A, TN70DA, TN70SA, TN75, TN75A, TN75D, TN75DA, TN75S, TN75SA, TN75V, TN85A, TN85DA, TN95A, TN95DA, Workmaster 35, Workmaster 40, Workmaster 45, Workmaster 55, Workmaster 65, Workmaster 75, 1110, 1210, 1215, 1220, 1310, 1320, 1510, 1520, 1530, 1620, 1630, 1710, 1715, 1720, 1725, 1910, 1920, 1925, 2120, 3415
YANMAR EX450
Hardware sold separately